Artificial Intelligence is Helping Revolutionize Healthcare As We Know It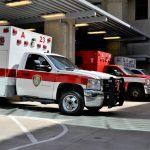 By Ashley Welch – In a time when chronic diseases are on the rise and people are living longer than ever before, novel solutions for better patient care are urgently needed. In healthcare's next chapter, a new type of technology will play a bigger role than ever before.
Enter artificial intelligence, or AI. Rooted in the simulation of human intelligence by computer systems and machines, AI has the potential to transform how humans learn, work and interact with one another in every aspect of life.
It's also primed to revolutionize healthcare.
"The rapid growth in available healthcare-related data in recent years allows us to ask bigger questions," says Jeff Headd, Vice President, Commercial Data Science, Janssen North America Business Technology. "Using the latest innovations in AI and machine learning (ML), we are able to quickly analyze these vast datasets (including electronic medical records, lab results or even medical imaging like X-rays, MRIs and CT scans), uncover new insights and then drive actions with real potential to improve patient outcomes."
The promise that AI holds is why Johnson & Johnson is actively using the technology in different ways, from speeding up the process of discovering new medicines to helping surgeons analyze the results of procedures. It's also why, during this year's South by Southwest conference, the company hosted a panel about AI's role in transforming healthcare.
"There's a deep demand for solutions in the healthcare space," says Shan Jegatheeswaran, Global Head of MedTech Digital, Johnson & Johnson, who spoke on the panel. "But it's important to remember that the most sophisticated thing in the clinical workflow is still the human brain. The role of AI is to augment a human decision or action in a way that improves speed, quality or both."
We're taking a closer look at five ways AI is helping drive healthcare forward—and how Johnson & Johnson is using it to help improve the quality of medical care around the world.  Read On: