e-Automate User Group Conference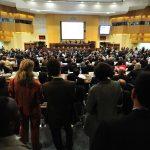 The EUG wrapped up last Thursday in Salt Lake City with a full, day-long session from those talented folks at CEOJuice.  They never disappoint as they featured a new AR payment platform for both ACH and Credit Cards that provides great flexibility for customers to pay their invoices.
There were numerous updates/enhancements to some of the Power BI reporting dealing with Client Profitability, Client Analysis, Contract and Technician performance, Financial Insights and Budgeting, QBRs and more.
Of course, "Juice" wasn't the only presenter at the conference.  There were dozens of break-out sessions which were track based (Accounting, Inventory, Order Processing, Contracts, Service and System Administration).  As IT and Managed Services becomes more widespread, the lines get blurred in both service and contract breakouts.  As we are talking more and more about MNS type agreements and ticket-based IT services, it is not just about Imaging anymore.
Many of the presenters were subject matter experts from various companies around the country who are well versed in the specific roles within the organization.   There was also a lot of Q&A and best practice sharing, which is invaluable.  I'm bringing home numerous items to discuss and implement.  Overall, time well spent.